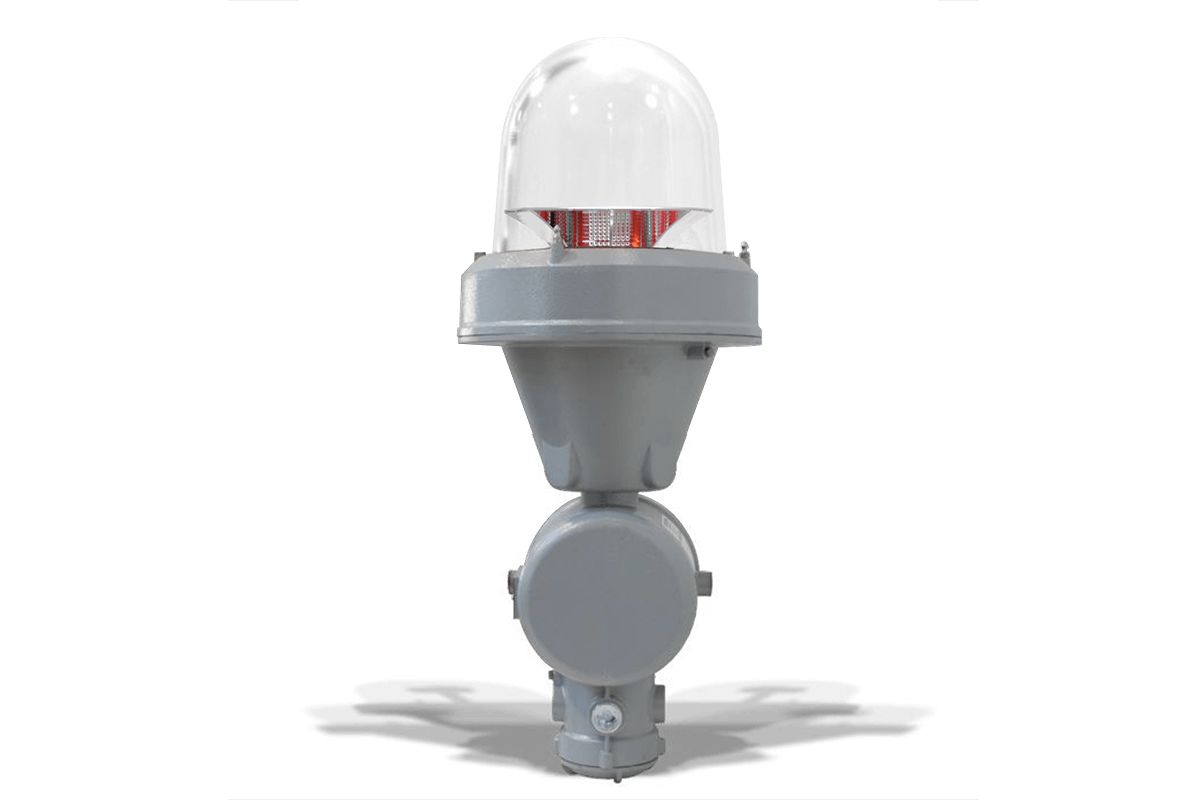 Order Code
MIOLB-E1_24S
MIOLB-E1_48S
MIOLB-E1_23S
Lamp ID:

SEGS24P2K_EX

SEGS48P2K_EX

SEGS23P2K_EX

Light Type:
Medium-Intensity, Type B
Typical use:
Night time
Light source:
LED
Type of beacon:
Single flashing
Colour:
Red according to CIE Chromaticity Boundary
Light Intensity:
> 2000 cd
Flashing rate:
20-40 fpm (flash per minutes)
Material of the body:
Die cast aluminum alloy copper free
Material of the transparent cap:
Glass
Input voltage:
24 Vdc
48 – 53 Vdc
110 – 230 Vac (50-60 Hz)
Average power consumption:
11 watt @ 25fpm 𝜏 = 500 ms
Peak power consumption:
54 W
54 W
55 W
Download the PDF data sheet.
Download the technical data sheet in PDF format with complete information and technical drawings.
designed and manufactured in Italy

extremely low power consumption

very high resistance to corrosion

very easy installation / plug 'n' play connections

extremely low wind factor

no maintenance required over service life (up to 100.000 hours)
wide range of operating voltage: 24, 48 Vdc and 110-230 Vac

wide range of operating temperature range: -20 C° to +60 C°
use as a stand-alone light or in a multiple light system with control board

integrated GPS based flash synchronization between lights (in a multiple light system)
STANDARDS & CERTIFICATIONS
| | |
| --- | --- |
| | ICAO ANNEX 14, Volume I, Chap. 6 Visual aids for denoting obstacles. Type B, Medium-Intensity obstacle light. |
| | FAA AC 150/5345-43 Specification for obstruction lighting equipment. Type L-864, Medium-Intensity obstacle light. |
| | none Medium-Intensity obstacle light. |
| | ATEX Directive 2014/34/EU, Equipment for potentially explosive atmospheres. |
| | IECEx Standards relating to equipment for use in explosive atmospheres. |
| | EAC Eurasian Conformity CU TR 012/2011 on the safety of equipment in explosion hazardous environments. |
Book a phone appointment to talk to one of our experts.
Are you still unsure about which layout to choose? Book a phone appointment to talk to one of our experts.
Success stories
Our success relies on our customers' satisfaction. Read their stories here.
Customer: The largest operator of electricity transmission networks in Europe
Location: Friuli-Venezia Giulia, Italy
Year: 2017
The electric transport network consists of high voltage lines suspended at a height that ensures electrical insulation and low electromagnetic […]
Customer: The world's largest flare manufacturer
Location: Abu Dhabi, UAE
Year: 2009
Flares are combustion smokestacks used in petrochemical plants to burn dangerous gases. They are vertical structures with heights greater than 45 m, made […]
Customer: Mr. Michael Meuth (General manager at BM Funktechnik GmbH)
Location: Zweibrücken Airport, Germany
Year: 2019
It is common opinion that LED lamps have a lifespan of over 100,000 hours: 11 years when considering 24/7 operation.